2020 - Year of the micro wedding
No-one can doubt that 2020 was a strange year. For those connected to the wedding industry and of course Brides, Grooms and their families it has been quite a dismal time with postponements, re-scheduling and cancellations abound.

I don't think I need to go into detail about how it affected each of us, but rather look at what changed - for the better perhaps.

You see, when weddings were finally allowed to go ahead, they were under certain restrictions; a maximum amount of persons present (30 or 15 depending on which restriction was in place at the time). This is quite a short-fall when most weddings typically have 80+ guests, plus venue staff and services suppliers.

One such 'micro wedding' came our way in 2020. Having decided to re-schedule their big wedding celebration with all family and friends to May 2021, they still wanted to get married as planned in September 2020. During our conversations we learnt that their wedding was for 'them', a declaration of love and commitment. They still wanted to celebrate, but that could be later and their legal marriage was more about the couple and immediate family.

They had not originally planned to have a wedding film. The change of plans prompted by the reduced numbers who could attend their wedding led them to have their Legal wedding day filmed so that it could be played on a big screen in May 2021 during their full celebration allowing friends and family to re-live the day.

We met up with Eliza and Andrew to chat as we always do with couples. We wanted to learn about them as a couple, how they met, what they enjoy doing and their vision for the finished film. Their day was to include Bride and Groom prep, a Ceremony and those present would then have some food before they headed out for a meal in the early evening. There was to be a photographer so there would be formal photos too.

Within our wedding films we always look to introduce lots of audio - words. These help tell the story of the couple and typically come from the Speeches or on occasion if the couple read letters to each other. Under the restrictions at the time, Readings could not take place during a Ceremony, The Speeches were to be included at the main event next year and Eliza and Andrew did not feel that reading letters were right for them either.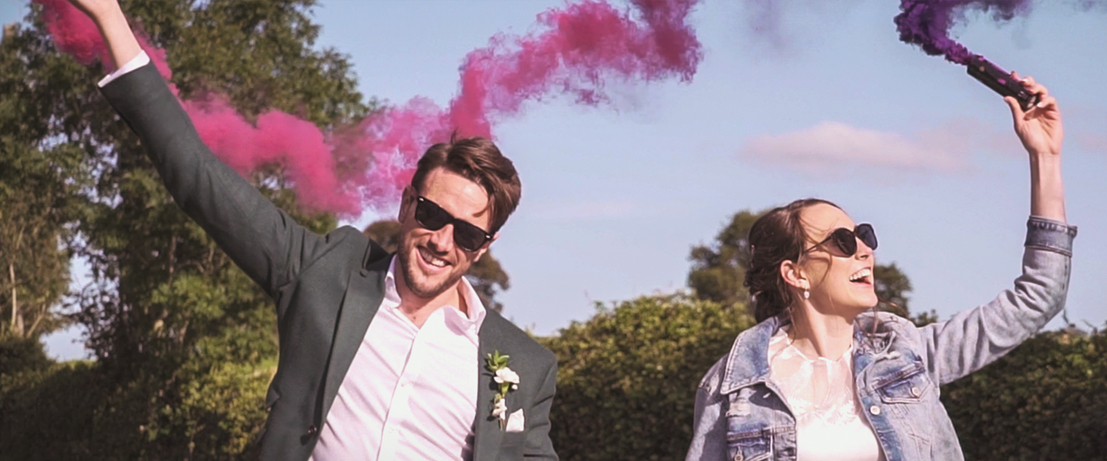 What to do? - we needed a way to get some beautiful words that ensured when everyone watched their film it had some substance, story, and kept you invested for 10 minutes.

Whilst chatting we learnt that they loved to walk, especially through the Dales. We took this germ of an idea and suggested we head for a country walk to a location that afforded views they might see on a typical walk. Then sit them down and ask a series of questions with the Dales as a beautiful and relevant backdrop. They loved the idea and a date was set.

The wedding was small, very small - way less that they could have had present, but their thought was if they could not have everyone as planned, then they would stick to parents and brothers and that meant there would be no awkward problems with selecting which people to include from their friends. This gave the day a lovely warm, intimate vibe. There was so much laughter throughout the day. The day also afforded so much time - a wedding is often a list of things happening one after another and quite close together - and typically runs behind. This was not the case, everyone just went very relaxed through the day with so much time available for photos, chatting - it was a real breath of fresh air to what we normally experience.

I would be really good to see more couples opting to have micro weddings. They are for sure much cheaper. But of course it's a very personal decision and we all LOVE to party with our friends.

So now, as I write we have delivered their film and they LOVE IT. They hope to be able to keep it under wraps until May 2021 - something they said might be difficult because they just love it so much. 2021 will be a huge year for the wedding industry with a huge number of rescheduled weddings from 2020 and ones that originally booked for 2021 all coming together. It will be very, very busy, but that is what we want as we all attempt to recover from a year with so few weddings.