Music Video Shoot with
Skinner & T'witch
On paper it looked feasible, but still a little worrying. Nine hours of filming over eight locations on the East Coast, around Whitby, to produce four different music videos!

There had been a lot of communications, plans and re-writes on the 'shooting schedule' that led up to this day. There was a perfectly good reason to attempt to shoot all four videos in one day and given that the performers were just two in number, a husband and wife Folk duo (Skinner & T'witch), it was at least easier than wrangling a large group of talent through so many scenes in one day.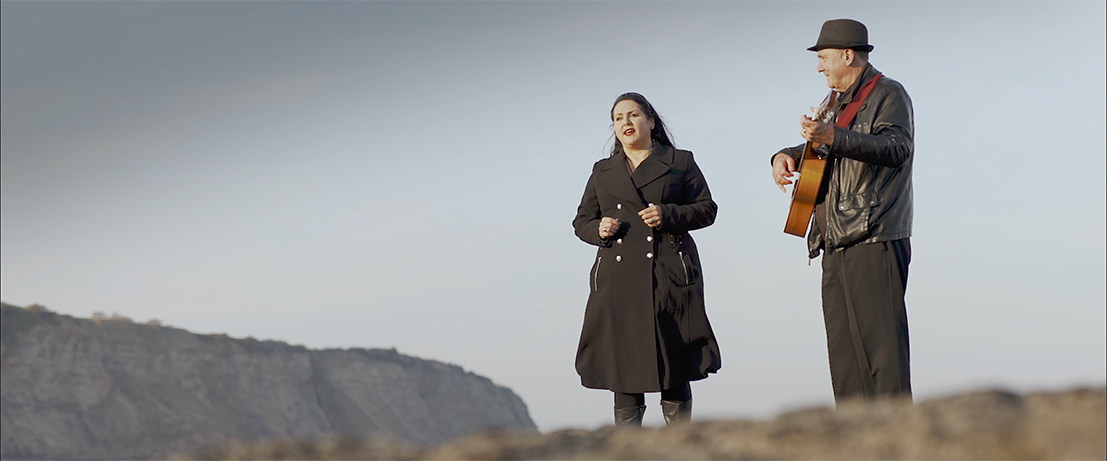 Whitby was chosen, as it had been the inspiration behind one particular song, was loved by the couple as one of their weekend get-away locations and at the same time provided plenty of opportunities to film in places that had at least some small similarity to those the songs had inspired.

Skinner & T'witch had done a pre-visit to the area to scout for locations and got permissions to shoot in a number of really great locations.

So, on a spectacularly beautiful March morning, I left home at 6:30 am to head to Whitby. We had arranged to meet at the first location; HM Bark Endeavour a modern metal hulled replica of Captain Cooks Ship. For those that are not aware, Cook moved to Whitby to became a trainee with a local shipping firm before he became the famous sea Captain we know him as. We had already arranged permission to film on board before it opened to the public for the day. The song that was being filmed was actually about Lord Nelson, but you can probably see why the location was chosen.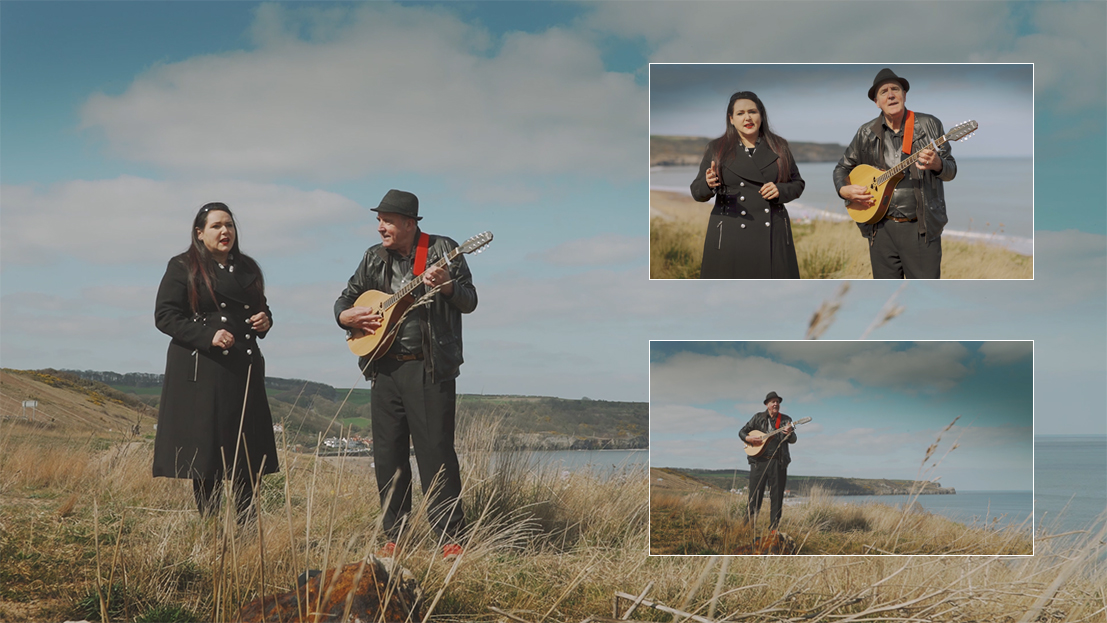 From the Quayside, we headed to a Fish Mongers (Cod Roe) in the town. This was a specific shop that had been the inspiration to 'Queen of the Ocean'. The shop and more specifically the girl who worked there were the aspects that formed the origin of the song. They knew we were coming and why. After capturing the necessary footage outside and a few select shots inside, it was time for them to have pictures taken to remember the day they appeared in a music video.

Onwards next to Sandsend, where I selected a location that provided a high viewpoint of the bay and would be the backdrop to filming the remainder of Queen of the Ocean. We popped down into Sandsend to grab some shoreline 'B Roll' footage and a well needed coffee too.

Next we headed back into Whitby for our next location - La Rosa. A quirky Hotel that has an eclectic décor, perfectly suited to the next song on our schedule (Another Royal Baby). The whole video was to be shot here. We had a room booked and with some adjustments to the furniture and a change of outfits for the talent, it was time to shoot. It's fair to say I was most eagerly excited about this particular video over all the others. The song has a lot of similarity to Noel Cowards work and is sung in the style of a conversation. It was the style of the delivery that led me to shoot this much like they were having a conversation over an English tea – complete with cake, scones and strawberries.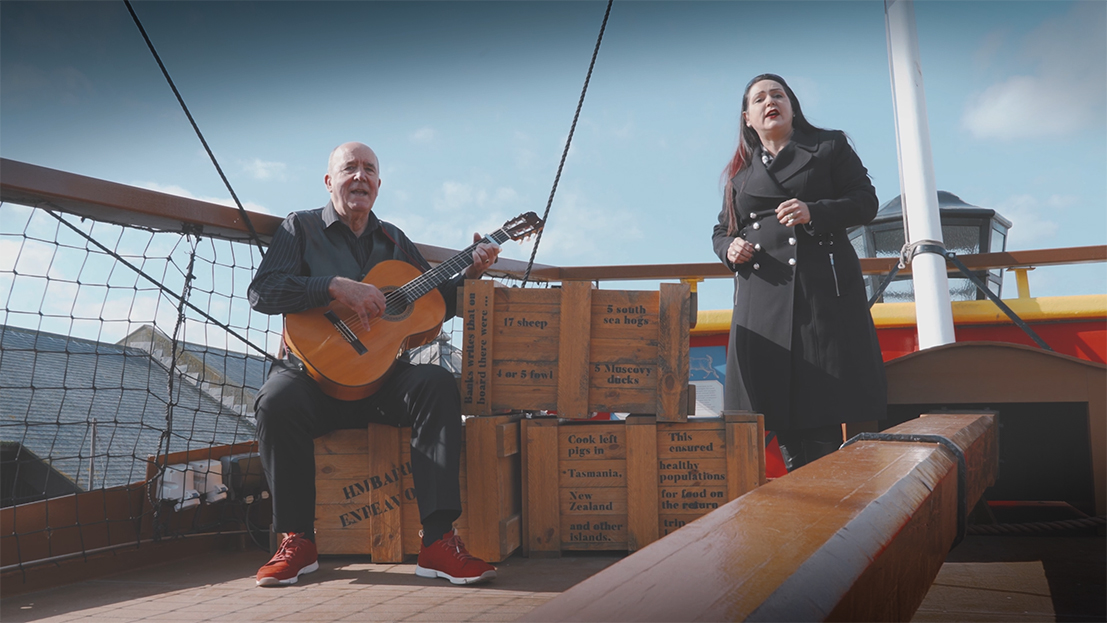 It was into Whitby we then went, to The Captain Cook museum. Another location that had been pre-booked for filming; after it had closed for the day to the public. The plan was to pick up further footage for the song (Nelsons Brew) which we had filmed on the HM Bark Endeavour at the start of the day. The Museum was formally the location James Cook lodged before joining the Royal Navy, whilst in Whitby and has now become a Museum about the famed Captain. We chose two locations and both appear in the video. It's more about getting a flavour of the era, than being historically accurate.

Our last location was Robin Hoods Bay. This beautiful quaint gem on the East Coast, whilst not having a specific frame of reference within the song we were to film (Bute Lullaby), it is one that is both loved by Skinner and T'Witch, has been the muse for a previous song and provided a great backdrop. After enticing some seagulls to take flight for some B Roll, we headed towards the sea to find a spot that held onto the remaining golden light of the end of the day.

Several takes of the song and we were done, so then headed to a place known as Secret Seaview, which has a Chapel, where we were to film some additional footage for this song; Bute Lullaby.

And that was it, well aside from a long drive home courtesy of a closed road forcing me around some narrow country lanes, along with everyone else. It was a long day, but ultimately a very well executed day. We stuck to the schedule with incredible accuracy, thanks to great planning, professionalism, perfect weather and focus.

The videos are being released in stages, so I will update this page with links to them as the songs are made available for public viewing. We are now planning another selection of dates to film more music videos over the coming months.

I will add the links to the music videos here when each is released.
Bute Lullaby: https://www.youtube.com/watch?v=4YUcdpT4Yto
What we need's another Royal baby: https://www.youtube.com/watch?v=gGqooqKZuv4
Nelsons Brew: https://www.youtube.com/watch?v=Hw5UZjAPGXs
Queen of the Ocean: https://www.youtube.com/watch?v=txh1b3dNhhk